Guardsman Zingpah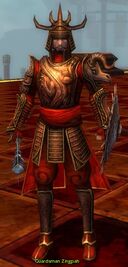 Classification
General
Guardsman Zingpah is found in a section of Kaineng Center that is only accessible from the Divine Path.
Location
Dialogue
Was there something you needed?"
Notes
Responding to him (instead of just simply closing the dialogue window) will cause your character to be teleported down near the exit to Raisu Pavilion, so you can get to the normal areas of the city.
Ad blocker interference detected!
Wikia is a free-to-use site that makes money from advertising. We have a modified experience for viewers using ad blockers

Wikia is not accessible if you've made further modifications. Remove the custom ad blocker rule(s) and the page will load as expected.