Guardsman Yujio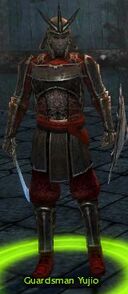 Classification
General
Guardsman Yujio guards the gate to Pongmei Valley. Speak to him to unlock access to the valley.
Location
Dialogue
"Master Togo has instructed me to take you to the edge of the city. When you are ready, you may travel to the Kurzick or the Luxon lands."
Notes
Ad blocker interference detected!
Wikia is a free-to-use site that makes money from advertising. We have a modified experience for viewers using ad blockers

Wikia is not accessible if you've made further modifications. Remove the custom ad blocker rule(s) and the page will load as expected.