Guardsman Po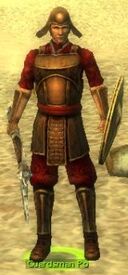 Classification
General
Guardsman Po is a guard NPC who appears outside of the Shrine of Maat, when Brother Sitai was hexed with a powerful illusion. He stands before the bridge with Faozun and Je Ling.
Quests Involved In
Location
Dialogue
"The priest who tends the shrine has gone completely out of his mind. Even I could not convince him to see reason."
Ad blocker interference detected!
Wikia is a free-to-use site that makes money from advertising. We have a modified experience for viewers using ad blockers

Wikia is not accessible if you've made further modifications. Remove the custom ad blocker rule(s) and the page will load as expected.