Guardsman Pah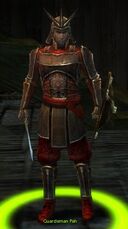 Classification
General
Guardsman Pah is one of the dwindling number of Canthan Guards remaining to protect the city.
Location
Quests Given
Quests involved in
Dialogue
"The plague is taking a severe toll on our beloved city. The people you see gathered here have been driven from their homes by the plague, and their numbers grow daily."
Ad blocker interference detected!
Wikia is a free-to-use site that makes money from advertising. We have a modified experience for viewers using ad blockers

Wikia is not accessible if you've made further modifications. Remove the custom ad blocker rule(s) and the page will load as expected.