Guardsman Noell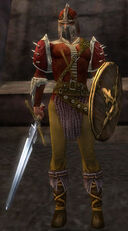 Classification
Dialogue
"I'm searching for 3 Ornate Grawl Necklaces. I can offer you one of the following items in exchange. Can you help me?"

Collector Items
Guardsman Noell
Location: Eastern Frontier, just outside Frontier Gate
Collecting: 3 Ornate Grawl Necklaces
Skills used

Healing Signet
Notes
This is one of only a few collectors who will fight nearby enemies if provoked.