Guardsman Kinri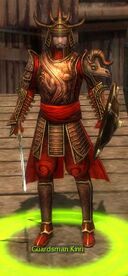 Classification
General
Guardsman Kinri is in involved in the gathering and burning of plagued bodies.
Quests Given
Location
Dialogue
"What am I doing down here? I think I have the worst post of any city guardsman, burning plagued corpses. Perhaps it would not be so bad if the bodies stayed put...and the smell were not so wretched."
Getting There
The easiest way to get to Guardsman Kinri is to start from the Tahnnakai Temple and follow the path on the map. There will only be 1 or 2 small groups you have to fight on the way.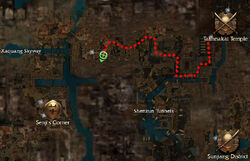 Ad blocker interference detected!
Wikia is a free-to-use site that makes money from advertising. We have a modified experience for viewers using ad blockers

Wikia is not accessible if you've made further modifications. Remove the custom ad blocker rule(s) and the page will load as expected.