Guardsman Gafai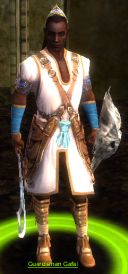 Classification
General
Guardsman Gafai guards the entrance into Blacktide Den.
Location
Dialogue
Before completing the mission Jokanur Diggings:
"Sorry, I cannot let you pass. This area is filled with corsairs, bandits, and I dare say, things much worse. It's all we can do to maintain the post. We can't afford to chase after heroes like [Character Name] who get in over their head."
After completing the mission Jokanur Diggings:
"Seems like taking back Fahranur was quite a challenge. Kormir has ordered this area opened to all of you for any official business you might have. These are strange times indeed, hero."
Ad blocker interference detected!
Wikia is a free-to-use site that makes money from advertising. We have a modified experience for viewers using ad blockers

Wikia is not accessible if you've made further modifications. Remove the custom ad blocker rule(s) and the page will load as expected.