Guardsman Bahsi
Classification
General
Guardsman Bahsi is the guardsman at the hidden path to the Sunspear Sanctuary in Marga Coast.
Quests Involved In
Location
Dialogue
Before completion of quest Hunted!:
"Sorry, but I cannot let you pass this way; Elder Jonah has declared it too dangerous for travelers."
After completion of quest Hunted!:
"Nice job cleaning out the Command Post. No one would ever know it was once filled with gigantic insects!"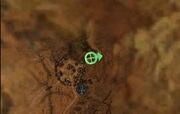 Ad blocker interference detected!
Wikia is a free-to-use site that makes money from advertising. We have a modified experience for viewers using ad blockers

Wikia is not accessible if you've made further modifications. Remove the custom ad blocker rule(s) and the page will load as expected.