Zaishen Guard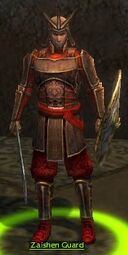 Classification
General
The Guards of the Isles or Zaishen Guards are the guards and protectors of the Zaishen Order, watching over The Battle Isles. They can be found in various places around the Isles.
Some of them on the Isle of the Nameless are training foes and can be attacked. They will not defend themselves or fight back.
Location
Skills used
Ad blocker interference detected!
Wikia is a free-to-use site that makes money from advertising. We have a modified experience for viewers using ad blockers

Wikia is not accessible if you've made further modifications. Remove the custom ad blocker rule(s) and the page will load as expected.