Guard Uwe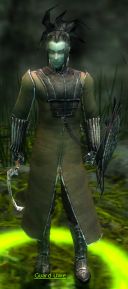 Classification
General
Guard Uwe is under the command of Guard Captain Vassi in Amatz Basin. He helps protect the fleeing refugees in the Amatz Basin mission.
Location
Skills Used
Dialogue
"This whole situation is giving me a lot of ideas for a new play that I'm writing."
Trivia
Guard Uwe is a reference to director Uwe Boll, notorious for directing movies based on video games such as "BloodRayne", "House of the Dead", "Postal", and "In the Name of the King: A Dungeon Siege Tale". His alliance with the Gothic styled Kurzicks is indicative of many of Boll's movies being horror themed.
Ad blocker interference detected!
Wikia is a free-to-use site that makes money from advertising. We have a modified experience for viewers using ad blockers

Wikia is not accessible if you've made further modifications. Remove the custom ad blocker rule(s) and the page will load as expected.