Guard Karsten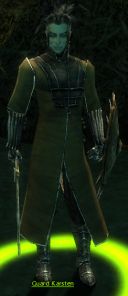 Classification
General
Guard Karsten is a Kurzick guard.
Location
Skills Used
Dialogue
"Urgoz has never acted so aggressively before. Something must be enraging him. If only we could figure out what..."
Ad blocker interference detected!
Wikia is a free-to-use site that makes money from advertising. We have a modified experience for viewers using ad blockers

Wikia is not accessible if you've made further modifications. Remove the custom ad blocker rule(s) and the page will load as expected.