Guard Captain Mirkoz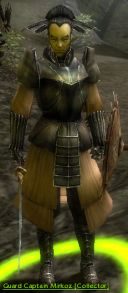 Classification
Dialogue
"There's evidence of a Dredge conflict raging below the very ground we walk on. How do I know? Their bruised and battered carcasses have been found throughout the forest not far from the mouths of their burrows. Unsettling, eh? Not only is the stench unbearable, but some of the more brazen bastards have attacked our supply caravans! My men and I are ready to take action. Will you join us? Bag yourself 5 Dredge Incisors, and I'll give you this:"
Collector Items
Guard Captain Mirkoz
Location: Saint Anjeka's Shrine
Collecting: 5 Dredge Incisors
Ad blocker interference detected!
Wikia is a free-to-use site that makes money from advertising. We have a modified experience for viewers using ad blockers

Wikia is not accessible if you've made further modifications. Remove the custom ad blocker rule(s) and the page will load as expected.