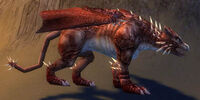 Griffons (sometimes also spelled Griffin) are large beasts walking on 4 legs, with the beak of a bird of prey, the wings and the long tail of a reptile.
Characteristics
All Griffons in the Prophecies Campaign are melee attackers and as such are very susceptible to PBAoEs. Griffons in Nightfall Campaign are ranged attackers.
All Griffons are Monks, Warriors, or Ritualists.
On the weakness side, keep in mind that Griffons ...
Griffons and Harpies are suspected to be members of the same species.
Items dropped
Griffons may drop the following loot, besides random gold and loot:
Known Sub-Types
May not technically be Griffons.

For an alphabetic list of all Griffons, including bosses, see also: Category:Griffons
Trivia
Griffons are obviously inspired by the Griffins of greek and medieval mythology, which are a mixture of a lion and an eagle.
Ad blocker interference detected!
Wikia is a free-to-use site that makes money from advertising. We have a modified experience for viewers using ad blockers

Wikia is not accessible if you've made further modifications. Remove the custom ad blocker rule(s) and the page will load as expected.