Grif Ebonmane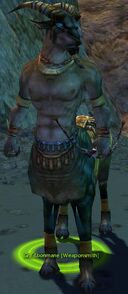 Classification
General
Grif Ebonmane is a weaponsmith.
For a fee of 10 gold, he can customize a weapon for you.
Quests Involved In
Location
Dialogue
In Dejarin Estate
"I don't like your smell, human, but I must thank you for freeing me. If I can do anything to help you in your fight against Varesh, you need only ask."
Weapons Offered
Ad blocker interference detected!
Wikia is a free-to-use site that makes money from advertising. We have a modified experience for viewers using ad blockers

Wikia is not accessible if you've made further modifications. Remove the custom ad blocker rule(s) and the page will load as expected.