Great Reaver Rixor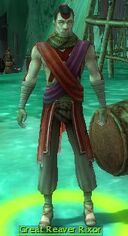 Classification
General
Great Reaver Rixor is the father of Rixonon. He is looking for help so he can continue his work mining for jade in Rhea's Crater.
Quest Given
Quests Involved In
Location
Dialogue
"And what can you do for the Great Reaver Rixor and the Crab Clan armada? Don't let the name fool you! A reaver is just a Luxon miner... of sorts. You see, once we reaved the richest ports on every coast. Now we take what we need... and want... from the riches buried beneath the Jade Sea. Our reavers working the Jade Quarry are looking for heroes to aid our efforts. What say you?"
Ad blocker interference detected!
Wikia is a free-to-use site that makes money from advertising. We have a modified experience for viewers using ad blockers

Wikia is not accessible if you've made further modifications. Remove the custom ad blocker rule(s) and the page will load as expected.