Grazden the Protector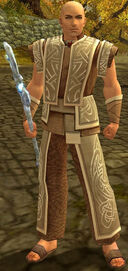 Classification
Grazden the Protector, Pre-Searing
Grazden the Protector is a profession trainer for Monks.
Quests Given
Location
Skills used
Dialogue
"Hail, apprentice. I am Grazden, a trainer in the art of Protection Prayers. It's a differing kind of healing. We Protectors use skills that help to prevent damage rather than restore health. Tis the way of a true monk. What brings you here?"
Grazden the Protector is living up to his name - a protector.
Quests Given
Location
Skills used
Ad blocker interference detected!
Wikia is a free-to-use site that makes money from advertising. We have a modified experience for viewers using ad blockers

Wikia is not accessible if you've made further modifications. Remove the custom ad blocker rule(s) and the page will load as expected.