Grahm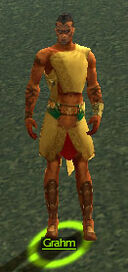 Classification
General
Grahm was hired by Trader Versai in Druid's Overlook as a helper.
Finding Grahm is the first objective of the quest Eye For Profit.
Quests Involved In
Location
Dialogue
"Those White Mantle are lucky they haven't come here when I've been around! One thrust from my mighty blade and they're history!
Did you need my help?"