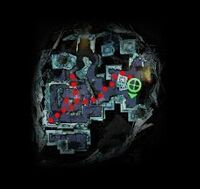 Overview
Obtained from Consular Brand Oakencask in the Central Transfer Chamber
Objectives
Rewards
After defeating the final wave, a Chest of the Brotherhood spawns, containing a Cloth of the Brotherhood and a Destroyer Core for each member of the party.
Walkthrough
The main mission area contains three entrances to a room with the baby dragon. The rear entrance connects to an elevated loop that encircles the arena. There are two side gates which lead to pathways and monster spawn points. In the center, the baby dragon rests on an elevated platform.
Primary
Tips
Creatures
NPCs
Monsters
Bosses
Videos
Notes
Ad blocker interference detected!
Wikia is a free-to-use site that makes money from advertising. We have a modified experience for viewers using ad blockers

Wikia is not accessible if you've made further modifications. Remove the custom ad blocker rule(s) and the page will load as expected.