Glacial Griffon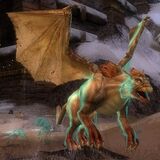 Classification
Description
Glacial Griffons are accomplished spirit-spammers. A Glacial Griffon is the target of the quest Cold As Ice.
Location
Skills used
Notes
Keep in mind that spirits attack from longbow range.
The Glacial Griffon has no healing skills, it does have natural health regeneration though. Quick-activating health degeneration skills and kiting are your best bets.
Spoil Victor is effective against the Glacial Griffon.
Aura of the Lich and Barbs with 12 Death and Curse can easily kill it.
Grenth's Balance is a great way to lower the griffon's hit points and heal yourself.
Gaze of Fury may be used to instantly destroy its spirits and make an offensive spirit of your own.
It has well over a thousand health.
Ad blocker interference detected!
Wikia is a free-to-use site that makes money from advertising. We have a modified experience for viewers using ad blockers

Wikia is not accessible if you've made further modifications. Remove the custom ad blocker rule(s) and the page will load as expected.