Giygas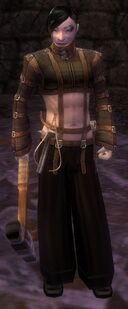 Classification
General
Giygas crafts Kurzick 15k armor sets. He will not offer his services if your Kurzick Faction is zero or is less than your Luxon Faction, regardless whether Vasburg Armory is under Luxon or Kurzick control at the moment you talk to him.
Location
Armor Sets
Excluding "no attribute" headgear.
Excluding Elementalist's Aura.
Trivia
Ad blocker interference detected!
Wikia is a free-to-use site that makes money from advertising. We have a modified experience for viewers using ad blockers

Wikia is not accessible if you've made further modifications. Remove the custom ad blocker rule(s) and the page will load as expected.