Ghost of Sehwanu

Classification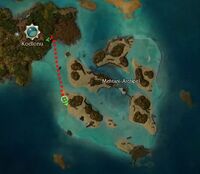 General
The Ghost of Sehwanu can be found haunting the southwestern dune of Mehtani Keys. She seeks vengeance upon a corsair who betrayed her trust and tormented her. Sehwanu does not appear every time you enter the Mehtani Keys but when she does, she can be found just behind Bloodback Morrob and his Istani Cultists. She is found on the shore gazing to the west toward Lahtenda Bog to the approximate location where her tormenter can be found.
Locations
Quests
Quests given
Ad blocker interference detected!
Wikia is a free-to-use site that makes money from advertising. We have a modified experience for viewers using ad blockers

Wikia is not accessible if you've made further modifications. Remove the custom ad blocker rule(s) and the page will load as expected.