Ghachu Cave
Basic Info
Neighbor(s)
None
Map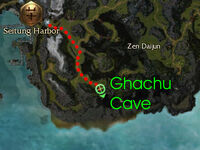 (click to enlarge)
Description
Ghachu Cave is a large system of connected caverns in the mountains on the southern coast of the Zen Daijun area on Shing Jea Island. The caves is inhabited by Afflicted and Mantids during the Zen Daijun mission and only Afflicted during the quest An Unwelcome Guest.
See also map of Zen Daijun.
Ad blocker interference detected!
Wikia is a free-to-use site that makes money from advertising. We have a modified experience for viewers using ad blockers

Wikia is not accessible if you've made further modifications. Remove the custom ad blocker rule(s) and the page will load as expected.