Gavin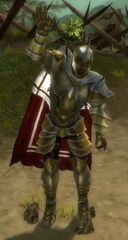 Classification
General
Gavin is a Shining Blade recruit, and an ex-White Mantle who can be found in Talmark Wilderness where he is accepted as a recuit, together with Ralph Bronwell, John Bronwell and Mary Farson.
He is applying to the Shining Blade after being banished from the White Mantle because he refused to aid in sacrificing the Chosen.
Location
Dialogue
"I don't blame you if you don't trust me. I wouldn't trust myself, knowing what the White Mantle have put the Krytan people through. But, I assure you, if you give me the chance to serve beside you, I will not let you down. I seek redemption for my sins and justice for Kryta, and I will gladly die to achieve either."
Notes