Gatekeeper Becker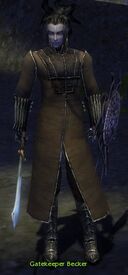 Classification
General
Gatekeeper Becker lets people return to Pongmei Valley from Arborstone.
Location
Dialogue
"What do you want?"
Notes
In one of his dialogue, Gatekeeper Becker refers to Pongmei Valley as the Pongmei Foothills instead, likely an old name prior to the release of Factions.
Trivia
Gatekeeper Becker may be named after Steve Becker, one of ArenaNet's IT Engineers.
Ad blocker interference detected!
Wikia is a free-to-use site that makes money from advertising. We have a modified experience for viewers using ad blockers

Wikia is not accessible if you've made further modifications. Remove the custom ad blocker rule(s) and the page will load as expected.