Gardock Stonesoul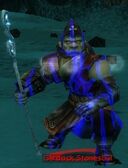 Classification
Description
Gardock is a Stone Summit Monk Boss found in Sorrow's Furnace. He can often be seen spamming Orison of Healing and thus can prolong a fight unless he is taken care of soon.
Locations
If you have Chains of Enslavement on you, you can not attack him because he is a Stone Summit.
Skills used
Items dropped
Note
Gardock Stonesoul is one of the bosses included in the Brand the Boss contest. It was named by Juan Favela of the United States.