Galrath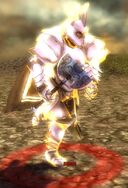 Classification
Description
Galrath is a powerful warrior who is bent on learning arcane secrets contained in the Wizard's Tower in Kessex Peak. He wears White Mantle armor, but his henchmen are merely bandits. Stopping him is the objective of the quest The Villainy of Galrath.
Location
Skills used
Items dropped
Notes
Ad blocker interference detected!
Wikia is a free-to-use site that makes money from advertising. We have a modified experience for viewers using ad blockers

Wikia is not accessible if you've made further modifications. Remove the custom ad blocker rule(s) and the page will load as expected.