Gahnlar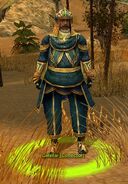 Classification
Dialogue
"Did you know that heket saliva is a universal curative? My grandfather used to brew a potion from heket tongues that could cure a cold, rejuvenate the body, and put hair on your chest... and down your back... but he was working on fixing that. I've been trying to reproduce the recipe, but I'm out of tongues. If you give me 5 Heket Tongues, I can brew up a new batch. I'm sure Prince Ahmtur will pay me handsomely for a steady supply, so I can afford to give you something for your troubles:"
Collector Items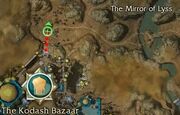 Gahnlar
Location: The Mirror of Lyss just outside The Kodash Bazaar
Collecting: 5 Heket Tongues
Notes
Ad blocker interference detected!
Wikia is a free-to-use site that makes money from advertising. We have a modified experience for viewers using ad blockers

Wikia is not accessible if you've made further modifications. Remove the custom ad blocker rule(s) and the page will load as expected.