G.O.L.E.M. 1.0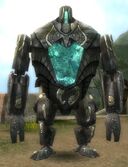 Classification
G.O.L.E.M. 1.0s are summoned by dropping an Asuran Beacon. During Genius Operated Living Enchanted Manifestation your party can summon up to 2 golems; in Riven Earth you can only summon one. Like many other NPCs that follow you around, the G.O.L.E.M. 1.0 can be told wait or follow.
Location
Skills used
Notes
You can turn into a G.O.L.E.M. 1.0 by using an Automatonic.
Ad blocker interference detected!
Wikia is a free-to-use site that makes money from advertising. We have a modified experience for viewers using ad blockers

Wikia is not accessible if you've made further modifications. Remove the custom ad blocker rule(s) and the page will load as expected.