Frost Golem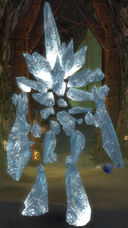 Classification
General
Frost Golems are versions of the Siege Ice Golems employed by the Stone Summit. They can only be found as part of the quest Cold One in which players have to lead them under crushers so that they can be pounded into ice.
Quests Involved In
Location
Ad blocker interference detected!
Wikia is a free-to-use site that makes money from advertising. We have a modified experience for viewers using ad blockers

Wikia is not accessible if you've made further modifications. Remove the custom ad blocker rule(s) and the page will load as expected.