Ad blocker interference detected!
Wikia is a free-to-use site that makes money from advertising. We have a modified experience for viewers using ad blockers

Wikia is not accessible if you've made further modifications. Remove the custom ad blocker rule(s) and the page will load as expected.
Forum Highlands

Basic Info
Neighbor(s)
Garden of Seborhin,

Jennur's Horde (location)|Jennur's Horde, Tihark Orchard (location)|Tihark Orchard, The Kodash Bazaar, Vehtendi Valley, Nightfallen Garden
Map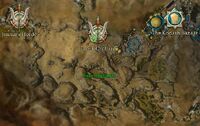 (click to enlarge)
Description
The Forum Highlands are an Explorable area in Vabbi. They are named for the Grand Forum of Vabbi, located in the Northwest of the Highlands, near Yahnur Market. To the Southeast of the forum is a few small areas of farmland, but most of the southern part of this area is composed of broken cliffs, with most of the accessable land being in small valleys. The highlands appear more arid and sandier than most of Vabbi, and in the Northwest open up into a small desert with dunes.
Exits
Towns and Outposts
Explorable Areas
Points of Interest
Shrines and Blessings
Southeast: Lyssa shrine, Heket Hunt, exit to Vehtendi Valley (Vabbian Scout)
Northeast: Lyssa shrine, Heket Hunt, exit to Kodash Bazaar (Vabbian Scout}
Northwest: Grenth shrine, Heket Hunt, exit to Jennur's Horde (Vabbian Scout)
West: Balthazar shrine, Skree Battle (Vabbian Scout)
Center: Dwayna shrine, Elemental Hunt (Whispers Informant)
South: Grenth shrine, Elemental Hunt (Whispers Informant)
North: Melandru shrine, Skree Battle (Vabbian Scout)
NPCs
Bestiary
Monsters
Bosses
Quests
Forum Highlands
Notes
---