Forgotten Vale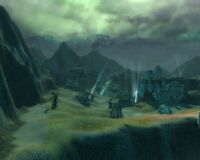 Basic Info
Neighbor(s)
None
Description
The Forgotten Vale is a valley west of the Labyrinth, occupied with Grasping Darknesses, Coldfire Nights, Stalking Nights, and Obsidian Behemoths. There is a small village of Tortured Spirits that lives in the vale and they even have their own Mayor.
The Vale is supposed to be supervised by the Reaper of the Forgotten Vale, but when players enter the Underworld, the Reaper is imprisoned by the Terrorweb Dryders and the vale is overrun with monsters.
The quest Wrathful Spirits takes place in the Forgotten Vale.
Monsters
Ad blocker interference detected!
Wikia is a free-to-use site that makes money from advertising. We have a modified experience for viewers using ad blockers

Wikia is not accessible if you've made further modifications. Remove the custom ad blocker rule(s) and the page will load as expected.