Flamemaster Maultooth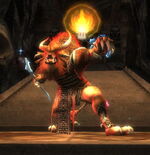 Classification
Description
Flamemaster Maultooth is Scorch Maulclaw's head torturer. He is encountered during the Warband of Brothers mission.
Location
Skills used
Items dropped
Notes
As you approach Flamemaster Maultooth, two Charr Effigies spawn and stand to his left and right.
He is immune to burning.
Ad blocker interference detected!
Wikia is a free-to-use site that makes money from advertising. We have a modified experience for viewers using ad blockers

Wikia is not accessible if you've made further modifications. Remove the custom ad blocker rule(s) and the page will load as expected.