Fishmonger Bihzun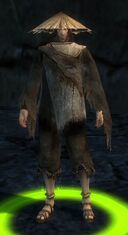 Classification
General
Fishmonger Bihzun is found in Wajjun Bazaar. He owes the Jade Brotherhood money.
Quests Involved In
Location
Dialogue
"Some people say the water around here is polluted, but I promise the fish is still good to eat. Believe me, I sell the finest three-eyed salmon in all of Cantha.
Not interested? Suit yourself."
Notes
The last line of the dialogue is a likely reference to Blinky, of The Simpsons and Futurama fame.
Bizhun cannot be harmed by the Jade Brotherhood.
Ad blocker interference detected!
Wikia is a free-to-use site that makes money from advertising. We have a modified experience for viewers using ad blockers

Wikia is not accessible if you've made further modifications. Remove the custom ad blocker rule(s) and the page will load as expected.