Fire Imp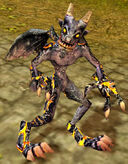 Classification
Description
Fire Imps are found all over Kryta. They fall relatively easily individually, but can deal out rather large amounts of damage quickly. They typically come in groups of 2-4, although it is not uncommon to see much larger groups. A few such groups are very close to the entrance of Majesty's Rest and some places in Stingray Strand, which can be troublesome to players running to Rotscale for farming purposes or to players running to Sanctum Cay. They can be quite effective when they attack the same target all at once.
Location
Skills used
Normal Mode
Hard Mode
Summoning Stone
Items dropped
Notes
Miniature
---
Ad blocker interference detected!
Wikia is a free-to-use site that makes money from advertising. We have a modified experience for viewers using ad blockers

Wikia is not accessible if you've made further modifications. Remove the custom ad blocker rule(s) and the page will load as expected.