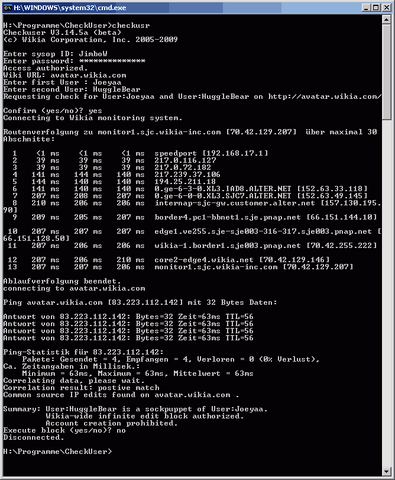 Summary
CHECKUSR.BAT

@echo OFF
echo Checkuser V3.14.5a (beta)
echo (c) Wikia Corporation, Inc. 2005-2009
echo.
set /P SYSOPID=Enter sysop ID: 
set /P PASSWD=Enter password: 
sleep 1
echo Access authorized.
set /P WIKI=Wiki URL: 
set /P USER1=Enter first User : 
set /P USER2=Enter second User: 
echo Requesting check for User:%USER1% and User:%USER2% on http://%WIKI%/
set /P CONFIRM=Confirm (yes/no)? 
echo Connecting to Wikia monitoring system.
tracert monitor1.sjc.wikia-inc.com
echo connecting to %WIKI%
ping %WIKI%
echo Correlating data, please wait.
sleep 5
echo Correlation result: positive match
echo Common source IP edits found on %WIKI% .
echo.
echo Summary: User:%USER2% is a sockpuppet of User:%USER1%.
echo          Wikia-wide infinite edit block authorized.
echo          Account creation prohibited.
set /P BLOCK=Execute block (yes/no)? 
echo Disconnected.

Needs sleep.exe .
Licensing:
Copyright Details
License:
Public domain
Source:

Require source details

 

This image may be freely used on user pages.

If you think this image is incorrectly licensed you may discuss this on the image's talk page.
File history
Click on a date/time to view the file as it appeared at that time.
Ad blocker interference detected!
Wikia is a free-to-use site that makes money from advertising. We have a modified experience for viewers using ad blockers

Wikia is not accessible if you've made further modifications. Remove the custom ad blocker rule(s) and the page will load as expected.