Field General Hayao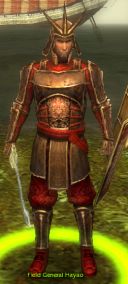 Classification
General
Field General Hayao, of the Zaishen Order, greets visitors from other campaigns to Elona.
Quests Given
Quests Involved In
Skills used
Location
Dialogue
"I'm to be stationed here to help keep the peace. I shall miss the Battle Isles, but it has prepared us to face this evil head on. We Zaishen are here to help."
Ad blocker interference detected!
Wikia is a free-to-use site that makes money from advertising. We have a modified experience for viewers using ad blockers

Wikia is not accessible if you've made further modifications. Remove the custom ad blocker rule(s) and the page will load as expected.