Description
One of the largest swords, the Fellblade impresses with its massive size. This blackened but still shiny blade, almost as long as a small man, doesn't feature any delicate ornaments or even a guard. This blade is also animated, with shadowy clouds moving across it. The default color of the handle is purple/pink.
Location
They drop in many areas:
Core areas
Animation
The animation depicts black shadows moving across the body of the blade.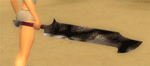 Dye
Due to an update, dye now drastically affects a fellblade, changing the entire blade, handle and all, to be a very dark version of applied color. For example, Silver will change the entire blade to a dark grey, while Purple will make it a deep purplish-black. Applying black dye, will now make the entire blade jet-black with ripples of light along the side of the blade. A fellblade is dyed yellow by default.
Ad blocker interference detected!
Wikia is a free-to-use site that makes money from advertising. We have a modified experience for viewers using ad blockers

Wikia is not accessible if you've made further modifications. Remove the custom ad blocker rule(s) and the page will load as expected.