Faze Magekiller
Classification
Map(s)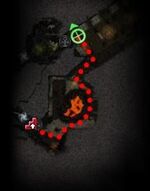 (click to enlarge)
Description
A Charr Mesmer boss on level 1 of the Cathedral of Flames dungeon. He will drop a Dungeon Key for the Dungeon Lock next to him.
Location
Skills used
Items dropped
Notes
Sometimes Faze's group will turn hostile before he does and they will inadvertently cause approximately 1/4 - 1/3 damage to his health before he himself turns hostile allowing some groups to kill him much quicker when attempting a cathedral run on hard mode.
Ad blocker interference detected!
Wikia is a free-to-use site that makes money from advertising. We have a modified experience for viewers using ad blockers

Wikia is not accessible if you've made further modifications. Remove the custom ad blocker rule(s) and the page will load as expected.