Farrer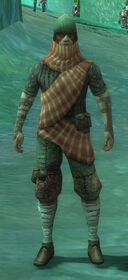 Classification
Dialogue
"There are many legends among our people of the Saltspray dragons. One tells of a time ages ago when a dragon king made a pact with a shipwrecked captain. In exchange for wind and guidance, the captain guaranteed that no Luxon would cause harm to a Saltspray dragon. To do so would bring terrible luck. That was, of course, before the dragons were driven mad by the Jade Wind. These days, we use their crests as good luck charms, so it can still be said the luck of the dragon is with us. If you're feeling lucky yourself, bring me 5 Azure Crests and you shall receive this:"
Collector Items
Farrer
Location: Seafarer's Rest
Collecting: 5 Azure Crests
Ad blocker interference detected!
Wikia is a free-to-use site that makes money from advertising. We have a modified experience for viewers using ad blockers

Wikia is not accessible if you've made further modifications. Remove the custom ad blocker rule(s) and the page will load as expected.