Facet of Illusions

Classification
Map(s)

Possible Location in Magus Stones #1

Possible Location in Magus Stones #2

Possible Location in Magus Stones #3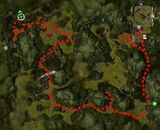 Possible Location in Magus Stones #4
Description
The Facet of Illusions is a mesmer Forgotten boss that appears in Magus Stones when you get close enough to its location during the quest The Cipher of Lyssa. It also appears in Varajar Fells during the quest The Path to Revelations.
Location
Skills used
Items dropped
Notes
The Facet of Illusions looks exactly like the Facets that are encountered during The Dragon's Lair (mission) in the Prophecies campaign.
Spawn location in Magus Stones can be random
The fastest way to find the Facet of Illusion is to rezone to and from the outpost, when the proximity goes straight to about 75% its on possible location #2.
Ad blocker interference detected!
Wikia is a free-to-use site that makes money from advertising. We have a modified experience for viewers using ad blockers

Wikia is not accessible if you've made further modifications. Remove the custom ad blocker rule(s) and the page will load as expected.