Facet of Destruction
Classification
Map(s)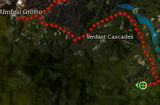 Possible Location in Verdant Cascades #1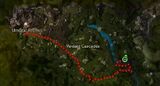 Possible Location in Verdant Cascades #2

Possible Location in Verdant Cascades #3
Description
The Facet of Destruction is a Forgotten warrior boss that appears in Verdant Cascades when you get close enough to its location during the quest The Cipher of Balthazar. It also appears in Varajar Fells during the quest The Path to Revelations.
Location
Skills used
Items dropped
Notes
Ad blocker interference detected!
Wikia is a free-to-use site that makes money from advertising. We have a modified experience for viewers using ad blockers

Wikia is not accessible if you've made further modifications. Remove the custom ad blocker rule(s) and the page will load as expected.