Description
Double-click to embody the spirit of Halloween. This item has unlimited uses, and cannot be used in PvP.
Acquisition
Notes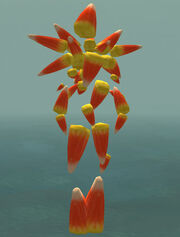 The emotes used by the Avatar of Sweetness are identical to the female necromancer emotes.
Rarely, the character will use the /clap emote immediately after transforming.
Can be used in conjunction with Squash Serum so that you may have a pumpkin head while under the tonic's effect.
This and the Everlasting Yuletide Tonic are the only Everlasting tonics that can be used outside an outpost; their non-Everlasting counterparts and the Zaishen Tonic can also be used outside outposts.
See also
Ad blocker interference detected!
Wikia is a free-to-use site that makes money from advertising. We have a modified experience for viewers using ad blockers

Wikia is not accessible if you've made further modifications. Remove the custom ad blocker rule(s) and the page will load as expected.