Etham the Artisan
Classification
Map(s)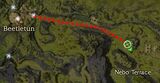 (click to enlarge)
General
Etham the Artisan is an artisan, i.e. a crafter for rare crafting materials.
For a certain input amount of common crafting materials and gold he will craft you the specified amount of rare crafting materials.
Etham had a wife named Nora who died in an attack on Nebo Village during the War in Kryta. According to Salma, they have two children.
Quests involved in
Location
Tip: Beware of Gypsie Ettins in the area.
Materials offered
For a list of required input materials and gold to be paid see: Artisan