Eternal Guardian of Lethargy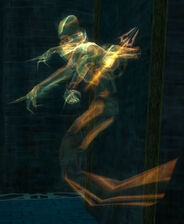 Classification
Description
The Eternal Guardian of Lethargy is one of two monsters sharing this name that appear in the Dasha Vestibule mission as part of the Trial of Eternity.
Each one is associated with either the lesser or greater version of the Eternal Lethargy environmental effect. The guardian emitting the lesser effect is located on the lower level, accompanied by two other Eternal Guardians emitting different effects. The greater guardians are more spread out on the upper level.
Location
Skills used
See also
Ad blocker interference detected!
Wikia is a free-to-use site that makes money from advertising. We have a modified experience for viewers using ad blockers

Wikia is not accessible if you've made further modifications. Remove the custom ad blocker rule(s) and the page will load as expected.