Eshwe the Insane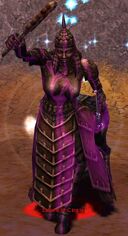 Classification
Map(s)

Location in Joko's Domain
from Remains of Sahlahja
Description
Eshwe the Insane is an undead Mesmer boss that can be found in Joko's Domain. She is located in the sulphur, northeast of Remains of Sahlahja.
Location
Skills used
Items dropped
Notes
If Eshwe the Insane Echoes another skill before dying her Echo skill will be replaced with the other skill. If you want to capture Echo but it does not show up in the capture skill list, wait for 30 seconds and use Signet of Capture again.
Ad blocker interference detected!
Wikia is a free-to-use site that makes money from advertising. We have a modified experience for viewers using ad blockers

Wikia is not accessible if you've made further modifications. Remove the custom ad blocker rule(s) and the page will load as expected.