Erasmus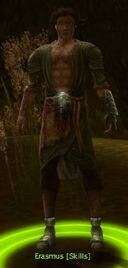 Classification
General
Erasmus is a skill trainer.
Location
Skills offered
Any skills that are available as quest rewards are listed in bold.
Skill Trainers offer all skills that are offered by the Skill Trainer(s) listed before them.
Trainer
Warrior
Ranger
Monk
Necromancer
Mesmer
Elementalist
Assassin
Ritualist
Erasmus at
Bai Paasu Reach
Same skills as Alexei in Breaker Hollow
See also Trainer Locations.