Enemy Priest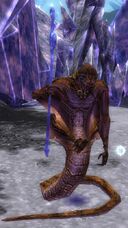 Classification
Description
Enemy Priests are Forgotten monks found during the Thirsty River mission tending to a resurrection shrine. While an enemy priest lives, every two minutes all units belonging to their party will be resurrected at the shrine found beneath them.
Locations
Skills used
Ad blocker interference detected!
Wikia is a free-to-use site that makes money from advertising. We have a modified experience for viewers using ad blockers

Wikia is not accessible if you've made further modifications. Remove the custom ad blocker rule(s) and the page will load as expected.