Emperor's Hand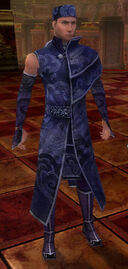 Classification
General
The Emperor's Hand is the highest executive to the Emperor.
Quests Given
Quests Involved In
Location
Dialogue
"The emperor is a kind and just man. I serve the empire, doing that which the emperor cannot, in order to maintain balance and justice."
Trivia
Emperor's Hand is a likely reference to Star Wars' Expanded Universe Emperor's Hand. The two are similar in that both should faithfully act on their Emperor's orders.
Ad blocker interference detected!
Wikia is a free-to-use site that makes money from advertising. We have a modified experience for viewers using ad blockers

Wikia is not accessible if you've made further modifications. Remove the custom ad blocker rule(s) and the page will load as expected.