Emissary of Dhuum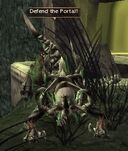 Classification

Description
This Necromancer boss appears in Nightfallen Jahai during the quest Dark Gateway. You must kill it to complete the quest.
Locations
Skills Used
Notes
He will not attack or pop-up his spawns as long as no one gets in melee range. This makes him very easy to kill, even solo, with ranged attacks or spells.
Ad blocker interference detected!
Wikia is a free-to-use site that makes money from advertising. We have a modified experience for viewers using ad blockers

Wikia is not accessible if you've made further modifications. Remove the custom ad blocker rule(s) and the page will load as expected.