Charr Ember Bearer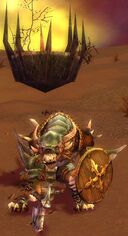 Classification
Description
The Ember Bearers are Charr Axe Fiends that come in a group of four, carrying a brazier of burning embers. The Bearers are needed for the Ruins of Surmia bonus, where the player must follow them and allow them to open the gate to the Flame Keepers. At least one Ember Bearer must be alive to carry the flame, and eliminating all Ember Bearers before the gate is opened will forfeit the bonus.
Location
Skills Used
Normal Mode
Hard Mode
Items Dropped
Ad blocker interference detected!
Wikia is a free-to-use site that makes money from advertising. We have a modified experience for viewers using ad blockers

Wikia is not accessible if you've made further modifications. Remove the custom ad blocker rule(s) and the page will load as expected.